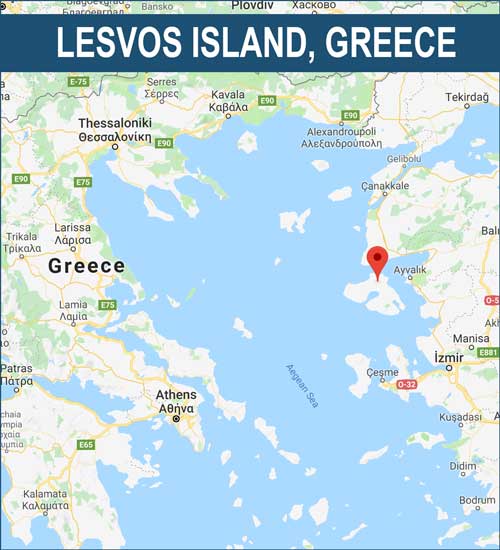 Read our Lesvos Blog . . .
Valerie Hellermann
Tuesday triage, a cold evening by the sea. Emotionally challenging due to 2 patients. One a young man, disheveled, clearly suffering. He had deep wounds from cutting, huge bandages on one arm, and new cuts [...]
In February 2018 the Hands on Global team first went to Lesvos, Greece. We provided medical care via a mobile clinic at the Moria Refugee Camp. Our team has returned to Greece 7 times to provide service in these camps. Moria Camp was a disaster. It was said to be the "worst" refugee camp. It was built to house 2,000 people as a military prison. In 2020 it housed over 25,000 refugees. There were two overflow camps, the Olive Grove and the Jungle housing refugees in shabby tents and plastic makeshift shelters. In September 2020 the Moria camp burnt to the ground causing 25,000 refugees to be homeless. It was a nightmare to all; the refugees, the NGO's, the Greek Government. Refugees were stuck living on the road with no shelter and minimal food and water. This, during the Covid pandemic.
In October 2020, the new camp, Kara Tepe 2, was opened on an old military firing range next to the Aegean Sea. Refugees were forced to move into this camp and into summer tents. First rain, the camp flooded. NGOs scrambled to dig ditches and provide wooden pallets to elevate the tents. Cold wind and rain blow through these tents constantly. Initially there was a shortage of sanitary facilities, refugees had to bathe in the sea.
Basic necessities had been lost in the fire and needed to be replaced. Warm clothing, coats and shoes were desperately needed for the coming winter. The camp food is the same MRE's – unpalatable and culturally inappropriate for most refugees. Those who can, cook meager meal, buying food with the 70 euros a month they get from the UNHCR. The camp is "closed" and refugees are only permitted outside the camp once a week for 4 hours on a rotating basis, 100 at a time. There is a heavy police presence in the camp making it feel very oppressive.
In the new camp the medical NGOs came together and all work collaboratively in a huge tent. There is now a primary care clinic, chronic care clinic, psychiatric care (limited), wound clinic, gyn and pediatrics. So many suffer with chronic illness, infected bone injuries, unhealed wounds from war and torture, disease from poor sanitation and almost all suffering from PTSD. Scabies is rampant.
Everything is rationed including medical care. People have to line up very early in the morning to get a number to be seen by a medical provider. Lab work, X-rays and hospital visits are closely rationed. The hospital on the island is a small community hospital, not prepared for thousands more patients. Referrals for specialty care in Athens are reserved for the VERY SICK and it is difficult to have a refugees geographic restriction lifted for medical care. Asylum status trumps medical needs in almost all cases. Medications and supplies are mostly donated by the NGO's and therefore limited in quantity. Medications are a huge need.
Although this camp is called a "reception camp", many refugees are stuck there for years awaiting the interviews for their asylum cases. Most will not get asylum and will have spent years in exile trying to start a new SAFE life. Currently there are mostly asylum rejections. For many. deportation is a death sentence. There are few options for those with rejections.
Hands On Global continues to provide medical support by bringing medical teams to volunteer. We fundraise for needed medication and medical supplies. We work hand to hand and heart to heart as we stay focused on the tasks. We stay present. The one-on-one connection we are able to make with refugees can bring hope to a refugee for one more day.