Lesvos Island, Greece : Moria Camp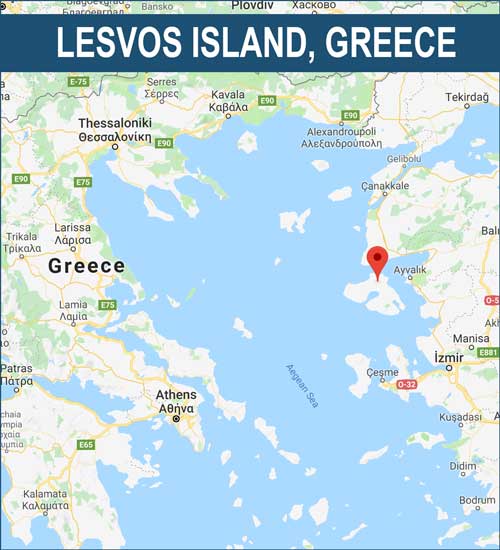 Read our Lesvos Blog . . .
Valerie Hellermann
Grateful Thanksgiving week. It was wonderful to see all the posts of gratitude. It is early Saturday morning. I was planning to sleep in, but the external clock and the slightest hint of morning light [...]
In February 2018 the Hands on Global team first went to Lesvos, Greece. We provided medical care via a mobile clinic at the Moria Refugee Camp.
Our team returned in October 2018 to provide healthcare inside the camp at the Kitranos Clinic serving over 90 people a day. Many suffer with uncontrolled chronic illness, infected bone injuries, unhealed wounds from war and torture, disease from poor sanitation and almost all suffering from PTSD.
The Moria Camp currently houses over 5,000 people with more than 2,000 outside the wires living in tents in several overflow camps. Refugees are still arriving. July 2019, Lesvos saw over 1,200 per week continuing to cross the Aegean in unseaworthy rafts.
Basic necessities and food supplies regularly run out. People go hungry. Violence regularly erupts on the food line as people queue up to 4 hours for food that runs out.
Many have not had the opportunity to bathe for months. Scabies is rampant. Men, women and especially children do not feel safe inside the camp. It is even more dangerous in the overflow camps where there is no police protection.
Everything is rationed including medical care. People have to line up very early in the morning to get a number to be seen by a medical provider. Lab work, X-rays and hospital visits are closely rationed and need a referral. The hospital on the island is a small community hospital, not staffed for an extra 6,000 – 9,000 people. Referrals for specialty care in Athens are reserved for the VEY SICK and are difficult to get. Medications and supplies are mostly donated by the NGO's and therefore limited in quantity. Refugees are only given medication short term at the clinic.
Although the Moria Camp is called a "reception camp", many refugees are stuck there for years awaiting the interviews for their asylum cases. Most will not get asylum and will have spent years in exile trying to start a new SAFE life.
Hands On Global contnues to provide medical support by bringing medical teams to volunteer. We fundraise for needed medication and medical supplies. We work hand to hand and heart to heart as we stay focused on the tasks. We stay present. The one on one connection we are able to make with refugees can bring hope to a refugee for one more day.