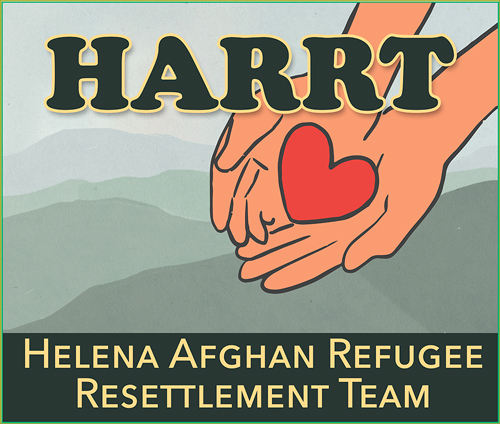 Helena Afghan Refugee Resettlement Team – HARRT
Hands On Global has been working with the International Rescue Committee (IRC) in Montana to resettle Afghan refugees. Members of the HARRT team have been training with the IRC and are prepared to welcome these refugees to resettle in Helena, Montana. The team is committed to provide and guide access to services within the community as well as providing affordable housing. Helena, Montana  welcomes them to our community.
Contact Valerie for more info: [email protected]
Update: February 2022
Our families have all arrived in Helena. We now have nine adults, seven children and two pregnant women. All are settling in comfortably and we are busy assisting them with medical appointments, school registration and general orientation to our community.
The core HARRT team are really enjoying getting to know these folks. Our Helena community has been so generous and positive in welcoming our new neighbors. The men have been taken on hikes on Mt. Helena, which they really enjoyed. The women and children have been to Exploration Works and the Carousel. Their adventure ended with delicious ice cream cones for all. It was wonderful to see the kiddos mingling with other kids.
A musical ESL concert for the families by musician Judy Fjell, followed by pot luck lunch prepared by community members, was a really wonderful experience for them all.
So much positivity and yet we have to remember the difficulties they must be experiencing in a new home, a different culture. Keep in mind they have left family members, friends, their homes and their country and very abruptly.
Their language is Dari and Pashto. Some have a little English ability, three are fairly fluent. They are enrolled in classes to learn English. The men are eager to find jobs and support their families. The women all have young children and are not yet ready for daycare as it is a new concept to them.
We are very happy to welcome them here in our community and look forward to learning more about their culture.